Red and Della Litter 2012

















Kirby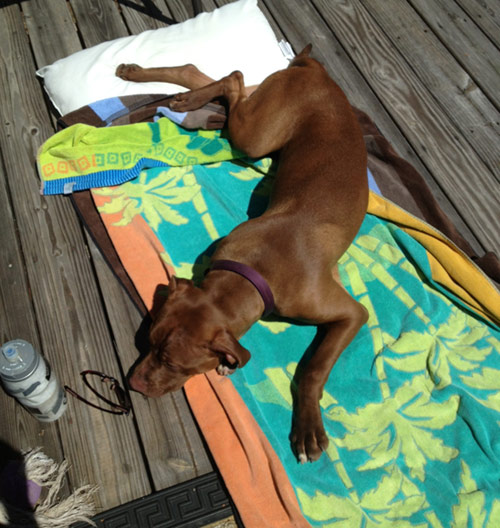 Here is a picture of Kirby Sunbathing on the deck. He is quite the athlete. He runs about 5 miles a day and eats us to the poor house.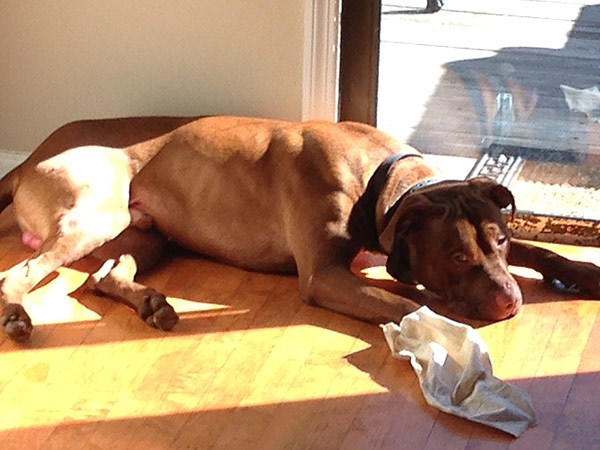 82 pounds at the vet last week. The vet said he had never seen a pitbull that is as large, strong and as muscular or as sweet. He can run all day and sleeps with my boys in their rooms at night. He acts like an NFL linebacker when running through the woods and playing with the kids and other dogs outside. He is calm and laid back in the house. He loves to sleep in the sunlight coming through the sliding glass door while keeping an eye on the boys while they play video games. He couldn't be a better dog. Thank you so much for bringing him into our lives.
Male owned by Andy Yearout
Calypso

Female owned by Keelyn Roberts
When I started my search for a dog, I had no idea where to start. I did like most individuals and typed the breed into "Google". After browsing through hundreds of forums and kennel websites I came across AJSreds. Initially when looking at the dogs, I felt that they were a bit on the heavy side for what I was looking for. Then after looking at more pictures and doing some research on many of the animals in the pedigree I decided to contact Alexa. The pedigrees are really solid but what really sold me was the feeling I got from Alexa after talking to her. She and her husband came across as honest, good natured people who truly loved their animals. When I finally got a chance to meet them in person they were exactly the way they portrayed themselves via the phone and website. Great experience.., !!

Calypso has been nothing short of amazing. From the moment I got her home she has had a sense for what was right and wrong. She was house broken with free reign of the entire house within the first week. This had a lot to do with the method I used, however it still shows her level of intelligence. I used positive reinforcements. At night she slept in the bed with me and she would wake me up (by licking me) when she needed to go out. During the day she was able to roam freely in the backyard. When I came home from work in the evening I would take her out every hour until I went to bed. I used the same door each time and took her to the same spot and within 2-3 weeks she was completely trained and had only had 1 accident. I am pretty active; hunting, fishing, running etc. I include her as much as possible. She enjoys the outdoors and loves getting wet and dirty. She loves other animals and loves the water. Her best friend is my brother's dog Escobar. The two of them swim in the lake as much as possible. Overall I have been very pleased with Calypso. She is extremely intelligent, has a high drive and loves to please.
Chloe

Female owned by Marlene McCaffrey
Chloe has got to be one of the happiest puppies I have ever had. She just loves everything about life. She uplifts us in every way and has helped us through Paul's health situation with cancer. She loves all of the animals on the farm. As far as intelligence she is a shining star. With clicker training she has learned to learn and think, so there is nothing that she will not pick up on.

The "Gentle Leader"has encouraged her to be the easiest pit I have had to walk (boy don't they love to pull). It is a delight to take her on long walks. She stays by my side with slack on the lead. Wow, what an ambassador to the breed! It is your selective breeding I'm sure that has produced a pup that I'm proud to have as my friend. Thanks for letting me have the opportunity to have her in my life.
Copyright 2006 © AJ's Reds These pages and graphics may not be published in any manner without the written permission of AJ's Reds. Website Designed By: Working Dog Web Design