Samson and Sadie Litter from 2007

















Kimbo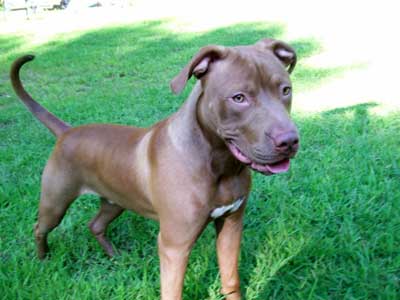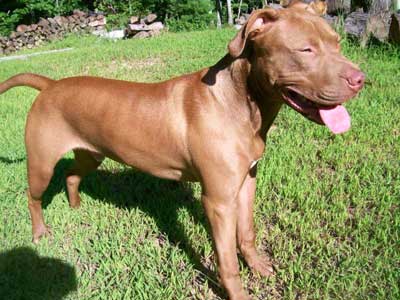 Male Owned by Nick Delorey of New Hampshire.
Here are some pictures I took today, his big tongue is hanging out in most of them, ha-ha. But yea, he is my heart. He is just so loving and loves kissing faces too, it's really sweet but can be a pain in the butt when your relaxing and out of no where he comes and starts slobbering the side of your head. The shadow thing sounds just like him too, he has to be able to at least see me at all times, there is no way I can just leave a room and not have him peaking around the corner or being right between my legs as im trying to walk. Every body is always saying how beautiful of a dog he is when we go out and they love that he is so sweet with every one he meets. I noticed when you walk a pit-bull people just move away as if he is some killer dog, pretty silly since it's always the mothers with their young children who want to pet him but he loves the attention and just starts licking away as soon as they put their hands out. I feel really lucky to have such an awesome social dog, again thank you for this beautiful, loving friend, he means the world to me and I would not trade him for any thing.
Gypsy Red

Female Pit Bull owned by Paul and Lisa Machilaski, of Kentucky.
Bentley

Male Pit Bull owned by Michael Rudd.
Sorry it has taken soooooo long to get you and your husband some good pictures that you could use for your website.  Bentley is the most wonderful dog ive ever  had he has the best personality and is just like a human in so many ways.  He usually goes everywhere a dog could possibly go when i go to town or on a trip or just to see a friend.  Everyone that sees him says hes the most beatiful dog  they have ever seen and always ask where he is from.  I saw a picture on yalls website of a dog named ( Caden) and he looks just like bentley i was wondering if that was his brother and where he is living.  Anyways let me know if you can receive all these pictures and there clear because if not ill send you some in the mail.
Copyright 2006 © AJ's Reds These pages and graphics may not be published in any manner without the written permission of AJ's Reds. Website Designed By: Working Dog Web Design